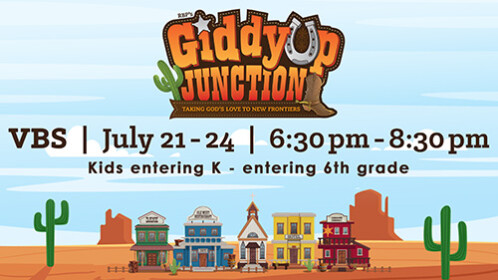 Giddyup Junction: Taking God's Love to New Frontiers
Students will experience a western-theme where kids spin lassos, mine for gold, and ride horses, complete with an Old West town, cactuses, and covered wagons. Kids will learn about the good news of God's love—the gospel—going to new frontiers in the book of Acts. They will respond to God's love and learn how they can take it to new frontiers today. VBS begins Sunday, July 21 at 6:30 pm and will run through Wednesday, July 21. Can't wait to see you!
Online registration ends at noon on Friday, July 19. After that, you may register at the door, please arrive 15 minutes early.