First Baptist Church of Rochester Wild Game Dinner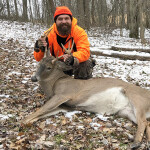 This year's speaker is Dave Doran, Jr., Lead Pastor at Resurrection Church in Lincoln Park, MI. He is married to Abigail and they have 4 children: Charlie Mae, Judah, Henry, and Levi. David grew up in Michigan, spending summers swimming in the Au Sable and hunting small game and whitetail in the fall.
Julie Carpenter is our chef once again. You will love her wild game meat recipes!
Kids' Program for children 9 and under with live animals and kid-friendly food.

There will be lots of prizes and good fellowship. We hope you will join us!

FEBRUARY 22 | 5: 30 pm Doors open | 6:30 pm Dinner
Tickets are $15/person - limit of 7 if purchased by February 19, 2020
Group ticket purchases for 8 people or more are $12/person if purchased by February 19, 2020
Cost at the door is $20/person
Kids age 9 and under are Free
Online ticket purchases closed Wednesday, 2/19/2020. They are still available at the door for $20/person. Group-rate will not apply.
Please consider supporting our Wild Game Dinner in the following ways:
Donating a gift card for our prize giveaway - click here to contact us.
Volunteer
Pray for those attending