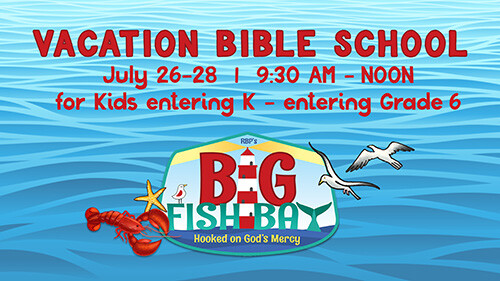 Daily, from 07/26/2021 to 07/28/2021
,
9:30 AM - 12:00 PM
Location: First Baptist Church of Rochester, 6377 Orion Road, Rochester, MI US 48306
"The L
ORD

is merciful and gracious, slow to anger, and plenteous in mercy." Psalm 103:8
Big Fish Bay is a nautical theme where kids explore an exciting bay, fish off the pier, and venture out to sea, complete with a lighthouse, tall ships, and coastal animals. During lesson time, kids will embark on a journey into the life of Jonah. They'll encounter God's mercy and see how His compassionate heart was most fully expressed in Jesus' death and resurrection. Seeing God's mercy, sharing God's mercy—kids will be "Hooked on God's Mercy."
Kids entering Kindergarten through entering Grade 5 are invited to attend Vacation Bible School at FBCR. We will have games, crafts, Bible lessons, songs, snacks, and much more.